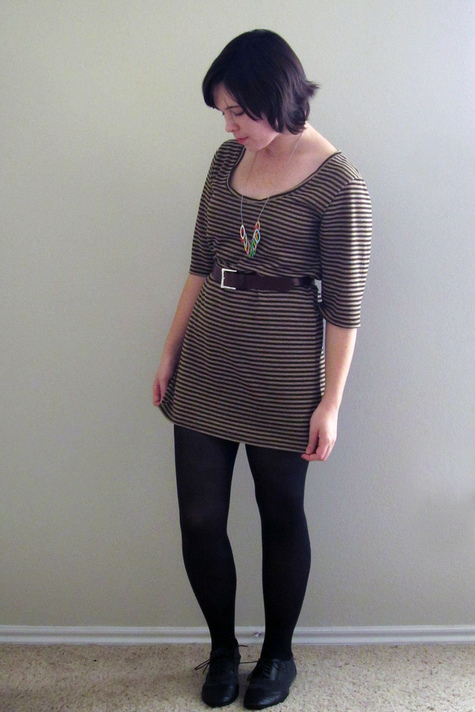 Britt
had made two versions that I loved, Dana has also made one that looks great and I thought it seemed like just the kind of thing I would like to reach for on the weekends over tights. In theory it was comfortable but not sloppy, simple but not boring and involved stripes - one of my favourite patterns!
In practice I made such a mess out of it that I am sure that I am not deserving of such a theoretically great dress. Look at this mess of a top!
For a start, I could tell that this dress is just a bit too straight up and down for my body but I wanted to see how the large size would work. Why I didn't just decided to draft the pattern out into an a-line kind of shape I'm not sure but there we are. Perhaps I was hoping the stretch of the jersey fabric would work with me, rather than against? I was wrong.
I printed out my pattern pieces. I stuck all of the parts together. I cut the pattern pieces out. I considered the direction of the stripes. Everyone knows that for an already curvy body, stripes that run horizontally are basically a fashion sin. So I ran the stripes vertically. Did I consider the direction of the stretch? No. Did the stretch run in the same direction as the stripes? Yes. Can anyone see where this is going? Why didn't anyone stop me?!
Oblivious to my grave error, I traced the pieces onto the fabric. I CUT THE PIECES OUT.
I sewed the shoulders and the side seams together. I marvelled at just how fast this was all coming together. I could picture myself waking up Sunday morning and reaching for this freshly made top to pull over my leggings, adding a scarf and popping down to my cafe for a flat white. I saw myself eating poached eggs with grilled haloumi at a nice local cafe.
I sewed on the three quarter length sleeves. These ended up a tad short and quite wide but not to worry, I could just taper these in later, it was an easy fix.
I tried the dress on. Of course, it was far too straight up and down to be of any use to me as a dress so it would need to be cut into a top in order to be salvaged. Still - I could always work with a new top. A top and jeans would be just as good! I sliced off the bottom, tried it on again and peeked into the mirror. I found a chain gang/ football referee staring back at me. It was hideous.
It was when I got to Dana's house the next night and showed her the horrendous little pile of shame that she pointed out - kindly (bless her cotton socks) - that I had cut the pieces the wrong way and the stretch was running in the completely opposite direction.
It was completely unsalvagable. We took some photos, each tried it on, had a good laugh and then let Ben proceed to wax the coffee table with it. It made an especially pretty rag.
I considered not blogging about this top. It's seriously the worst thing I've ever made, and I've made a lot of crap! But in the interest of documenting what I'm making I thought I would come clean. I've had a look at what I have left of the fabric and I think I've got enough to give it another go - will report back when it's complete!